Regretfully I had to tell my friend Hannah that I was no longer interested in a job she was aware of. The job is in a bakery, in Elmore, and I didn't realise how far away that was. I drove there today and it was fifty kilometres there and back. That's 100 each day. My car couldn't stand it, and it'll cost me a fortune in petrol. I really want the job though, because its great pay, its just a pity about the location. If only I lived closer!

Looks like I will be heading to TAFE to do a few short courses to increase my chances at finding work. Oh well, I will continue to persevere.
Typical old people. They assume they are the only ones with a right to these seats. The mother had a son with cerebral palsy, he was disabled and she was siting with him in the disabled seat when the old lady came up and told them both off:
A BOY, 3, and his mum were berated for sitting in a train's special-needs seats because he didn't appear to be disabled.
Brooke Stein was reduced to tears after an elderly woman began ranting at her and son Alex, whose disabilities include cerebral palsy and epilepsy.
The woman even told other passengers on the city-bound service from Warrnambool last month that the pair were in the wrong spot and wouldn't move.
"I was just dumbfounded," Ms Stein said.
"I physically couldn't look at her, I was so upset.
"I have never come across it before in my life and I did not expect I would."
A disability group and V/Line have pleaded for greater understanding, amid reports of special-needs passengers being given the cold shoulder simply for using areas they are entitled to use.
http://www.heraldsun.com.au/news/more-news/commuter-rails-at-disabled-boy-3/story-fn7x8me2-1226330711935
This makes me so mad! Those seats are there for disabled people, and the boy was disabled. His disability couldn't be seen, but the old lady should never have assumed the mother was just using the seat because she couldn't be bothered sitting elsewhere. I hope the old lady reads the article and feels ashamed of herself.
If I am on public transport and there are no seats left, I sit in the disabled seats. Why shouldn't I, if they are free? I will vacate them for a disabled person, but never for an elderly person, and I don't feel bad about that at all.
Had another seminar this afternoon. I only did the first two classes because the third class was kumite and the last time I did that, I injured my leg. I did the kick class and the kata class. Got to work on my Saifa! I now know the first six moves which is awesome. Spent an hour doing just those moves and now I have the hang of it. I think I should know it all the way through by the end of the month, then just need to fine tune it.
Have been terribly ill for the past few days. I had the worst case of gastro on Friday, had to come home early from work after feeling like I was going to vomit. I came home and slept, then woke up and threw up in the loo. I haven't thrown up in years so it was a bit of a shock, which seems to have made my stomach refuse to eat. I have eaten a half slice of toast, a jelly cup, and a few bites of a bread roll since Thursday night. It is late Sunday afternoon. I have been drinking a lot, though, and as far as I can tell, I haven't lost any weight, so I am not concerned.
Last week I had a terrible illness, pain in my right side ribs, had to go to hospital and have multiple tests, but nothing came back so it was put down to being yet another virus. Now I have another one. I am so tired, too. I went to bed at 6.30pm last night and had to work this morning.
I turned down an extra shift because I knew I wouldn't be up for it. I came home and slept for three hours. Its nearly 5pm now I feel like another nap.

Its Easter Sunday and I feel like crap, I don't even feel like eating any Easter eggs!
I have a few ideas for tattoos in mind, and I am using this blog post to list them all.

1. The logo for The Corrs 'Talk On Corners album on my right ankle:
2. A triquetra on my right ankle, below the Talk On Corners logo:
3. A Terminator down my left calf. This will be from the first movie, the metallic version. The image I have is not the one I want, but it gives you the idea. It will be in 3D, so it appears to be jumping out from my skin:
4. MacGyver/Richard Dean Anderson on my right upper arm. I will include an image of a SAK (Swiss Army Knife) to make it clear that its of Mac: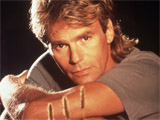 5. The Bon Jovi heart and dagger logo on my upper back. Have no preference as to which side:
I've been rather ill the past few days. On Thursday I developed a sharp pain in my ribs, on the right side. It had gotten so bad on Friday that I had to go home sick. It felt like I was being crushed to death and was hard to breathe. I managed to get an appointment at the doctor that same day, and the doctor seemed to think it might be my gallbladder, that I might have gallstones. Either that or a clot in my lung. I had to have a chest x ray, ultrasound, and blood tests to find out what the problem was. I won't get the results until at least tomorrow afternoon. I am always taking medication for inflammation of the gallbladder and its working, so I assume that is what the problem must have been. The pain is still there, but it's slight now. Two more days of medication to go and hopefully, I should be fine!
A total of 2.812 million Aussies across five capital cities tuned in to see Leigh Sexton and Jennifer Evans win the Channel 7 cooking show.
Earlier, 2.198 million viewers watched Leigh and Jennifer go plate to plate with Nic Mazzone and Rocco La Bella.
Leigh and Jennifer won $250,000 after preparing a five-course meal for a full restaurant.
The My Kitchen Rules finale was a huge springboard for Seven's premiere of Pictures of You.
The interview show, hosted by Brian Nankervis, averaged 1.639 million viewers nationally.
Leigh and Jennifer, who had been nicknamed "princess", turned into cooking queens after beating best mates Nic and Rocco.
Leigh and Jennifer scored a whopping 58 out of 60 to beat Nic and Rocco on 52 out of 60.

http://www.heraldsun.com.au/entertainment/leigh-sexton-and-jennifer-evans-win-my-kitchen-rules/story-e6frf96f-1226311804660




I don't believe the right team won. Rocco and Nic were firm favorites right from the beginning, when they received the highest score in MKR history for their restaurant meal. Leigh and Jen were okay cooks, but in the finals, they failed to complete their dessert, got more critical remarks from the judges, yet scored higher from all six judges.
I am surely not the only one who believes this years competition was rigged.
A GROUP which opposed plans for a Muslim school in the city's outer north has denied that racism and religious intolerance motivated protesters.
Friends of Mernda Heritage Site Group spokesman Ken Mooney said today that the issues only involved traffic congestion and preserving heritage.
"It's in no way a racism problem. If they were Catholics we'd be kicking up, if they were Presbyterians we'd be kicking up. It doesn't matter what religion they are,'' he said.
A decision by Whittlesea Council to overrule its own planning officers and reject plans for a 125-student Iraqi community school at a Mernda historical site sparked claims of anti-Muslim sentiment.
Great Prophet Centre spokesman Hassan Al-Kirshany has accused protesters and the council of discrimination, saying the scale of opposition was "because of our background''.
A council report said that most of the 2000 objectors lived outside the municipality and were part of a co-ordinated campaign by the heritage group.

http://www.heraldsun.com.au/news/more-news/group-denies-racism-behind-opposition-to-muslim-school/story-fn7x8me2-1226312438514
The residents would have us believe its not because of racism, but because of 'traffic issues'. Funny how traffic issues is always the excuse when someone wishes to erect an Islamic school. The last proposal was rejected because of the exact same reason.
Went shopping yesterday. I had just opened up a new bank account, that is going to help me move to Queensland. I have saved up for nearly a year, and put just over $1,300 into it. That's the flight and moving trucks paid for! A couple of grand more and I will be ready to go!

I had the day off yesterday and decided, on a whim, to go check out JB Hi Fi. I wasn't intending on buying anything but I ended up walking out with the latest Within Temptation album, as well as the two latest Lacuna Coil albums. Cost me $70, but it was about time I bought them!
I will be heading off to see this movie next weekend, hopefully on Saturday. I have already read the books and can't wait to see the movie. It pulled in over a million here on the opening day, so it will hit number one at the box office and will probably end up being more successful than Twilight - probably due to the lack of crappy actors and pale faces.
I'll have to go early though, and wait around for an hour or so. I am expecting tons of people to be waiting in lines to see it, and I need to make sure I get a decent seat!